NL Plants tests dripping on biennial beech trees
Article by Arno Engels - Hortipoint, De Boomkwekerij
Lodders Boomkwekerijen is starting a large-scale trial with drip irrigation on beds with forest and hedgerow plants.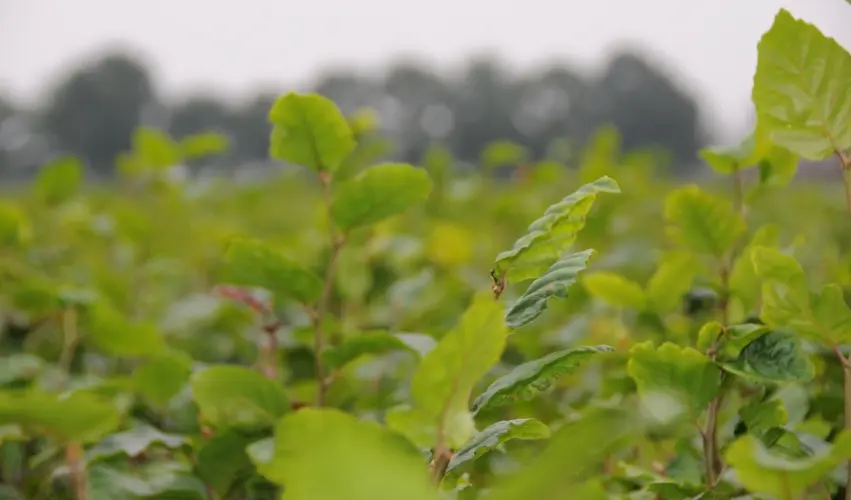 The company in Wernhout lays a total of 40 km of drip hoses on beds with biennial transplanted seedlings (Fagus sylvatica) that have to be established for another year, on 3.5 ha. Last week the first snakes were pulled; two per four-row bed. "We now have more than half," says Marc Lodders on Monday, who wants to start dripping this week. "A perfect time to see if it works," he says in view of the announced warm weather.
Sustainable solution for water problem
The irrigation technique comes from GoTech from Zundert; the hoses actually consist of thin tape that, for example, strawberry growers in the region also use. At Lodders, the tape is connected to supply hoses and the existing underground rain pipe. With the drip irrigation, the grower wants to "provide a start towards a sustainable solution to the water problem."
Until now, Lodders uses reels and sprinklers for irrigation. A few years ago, he was the first in the region to introduce a simple means of retaining water for longer: by placing planks in ditches. That idea led to the 'Threshold against Drought' campaign by the Brabantse Delta water board.
The application of drip irrigation is increasing considerably in tree nurseries, read an extensive article about this in the digital magazine of De Boomkwekerij. Lodders deliberately starts in biennial plants. "I think drip irrigation in an annual crop is still quite expensive, because the tape cannot be reused."